Elmed Fiberoptic Britetrac Retractors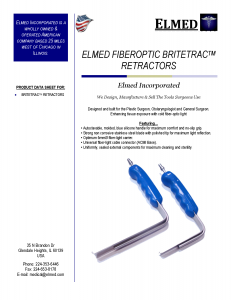 Part #Britetrac Retractors
Designed and built for the Plastic Surgeon, Otolaryngologist and General Surgeon. Enhancing tissue exposure with cold fiber-optic light
Featuring…
Autoclavable, molded, blue silicone handle for maximum comfort and no-slip grip.
Strong non corrosive stainless steel blade with polished tip for maximum light reflection.
Optimum 5mmØ fiber-light carrier.
Universal fiber-light cable connector (ACMI Base).
Uniformly, sealed external components for maximum cleaning and sterility.
Please click on PDF Icon for more information.