Elmed Exclusive Surgeon Stools, Jumbo Mayo Stands, & U-Move Walker / Carry All I.V. Pole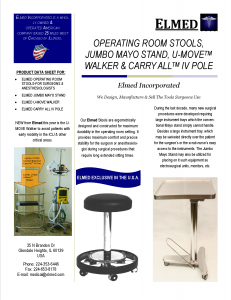 Part #OR Furniture
THE MOST COMFORTABLE STOOL A SURGEON CAN USE! 
The Elmed Surgeon Stool has no equal in comfort & practicality.  Made exclusively for Elmed to be sold in the USA, this surgeon's stool features a Heel/Toe controlled height adjustment system.  The surgeons hands are always sterile. He never has to use them, request outside assistance or remove him/herself from the stool to raise it up or down.
THE ELMED JUMBO MAYO STAND EXCEEDS EXPECTATIONS!
The ELMED JUMBO MAYO STAND is mounted on a T-shaped stable base of stainless steel. Thus, even equipment can be placed on it without the risk of tipping. The base is also fitted with electrically conductive wheels that feature a locking mechanism.
THE ELMED U-MOVE WALKER / CARRY ALL I.V. POLE
500 lb. capacity, Stainless Steel Construction!  The U-Move Walker assists patients with early mobility in the ICU & other critical areas to combat muscle weakness, joint tightness & lung problems
Please click the PDF Icon for more information